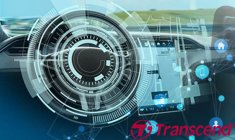 Facilitating Smart Urban Mobility With Transcend's Memory and Storage Solutions
29.08.2023
To meet the surging demand for storage and memory in applications geared towards the autonomous vehicle and electric vehicle market, Transcend proudly presents a comprehensive range of embedded-grade solutions. These solutions encompass DRAM modules, BiCS5 SSDs, memory cards, and eMMC solutions, all engineered to address the unique challenges posed by these industries. Notably, these storage devices are designed for wide temperature operation, enabling them to withstand extreme temperature fluctuations and frequent thermal shocks. Additionally, Transcend utilizes 30µ" gold fingers and Corner Bond technology in its SSDs, effectively improving transfer stability and durability. Moreover, Transcend's Power Loss Protection and SLC Mode technologies further guarantee data integrity, overall system performance, and service life. By adhering to stringent testing protocols, Transcend's embedded storage solutions confidently fulfill the highest safety and quality requirements prevalent in global automobile supply chains.

Features:
Sulfur-resistant and suitable for high-pollution environments
Power Loss Protection (PLP) ensures data integrity during unstable power supply and/or power failure
SLC Mode enhances random speeds and flash endurance up to 100K P/E cycles at a cost-effective price point
Optional Conformal Coating enhances flash and DRAM module endurance in harsh environments
Memory cards offer exceptional durability and have undergone rigorous testing to withstand extreme environments and other conditions of use. They are waterproof, shockproof, and static-proofs
Supports Scope Pro Monitoring software* and S.M.A.R.T. analysis to ensure devices remain in optimal condition
Features a fixed bill of materials (BOM) and embedded-grade product lifecycle management (PLM)
*eMMC is not compatible with the Scope Pro software.
Target Applications:
EV Smart Chargers
In-Vehicle Infotainment Systems
ADAS Systems
Car Navigation
Dash Cameras
Smart Cabins
Digital Dashboards