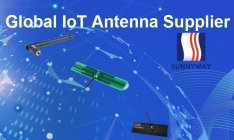 Comet Electronics signed a distribution agreement with Sunnyway Technology - Global IoT Antenna Supplier
17.06.2020
SunnyWay is an established name among antenna manufacturers for M2M applications. The company offers standard solutions for all popular radio communication standards - 2 / 3G, 4G, 5G, BT / Wi-Fi, GNSS, LoRa, NB-IoT / eMTC, ISM in various form factors PCB, FPC, Shrapnel, SMD, LDS, NFC, Spring, Ceramic, Chip, External Glue Stick/Sucker, etc.
SunnyWay has over 100 qualified R&D engineers and a wide range of specialized equipment used in the development and production process.
Quectel, the largest manufacturer of M2M cell modules, recommends SunnyWay antennas and they are part of their development kits.
In addition to standard products, Sunny Way also offers customized antennas and customization services on request.
Comet Electronics maintains popular models in stock.
You can get more technical information about a specific antenna by sending an inquiry to support@comet.bg.