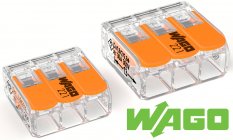 Installation terminals WAGO series 221 - The largest range of conductors diameters and all conductor types
26.05.2020
The 221 Series Splicing Connector connects solid, stranded and fine-stranded conductors easily, quickly and safely. No tools are required when working with them, the lever drive is convenient, reliable and saves time in everyday installations and that is why WAGO has expanded its 221 series with a new model of wire terminals with cross sections up to 6 mm2.

WAGO Series 221: Compact junction terminals for all types of conductors.
Save time for installers and device manufacturers
Safely install long cable runs with larger conductor cross sections
Connect solid, stranded and fine-stranded conductors
Connector for all conductor types ranging in size from 0.14 to 6 mm2 (26–10 AWG)
With the new 221 Series Splicing Connectors, you can now test the voltage from two different sides – even when they are installed.
You can see more details in the following leaflet: WAG0 221