Quectel introduced a multifunctional GSM / GPRS / GNSS / Wi-Fi module
27.08.2018
MC90 is a quad-band full-featured GSM/GPRS/GNSS/Wi-Fi module using LCC castellation package. It supports hybrid positioning technology, which includes GNSS, Cell ID and Wi-Fi aided positioning. The module also features low power consumption and supports dual SIM single standby function.
Thanks to the hybrid positioning technology, MC90 supports position tracking under both indoor and outdoor environments. GNSS+Cell ID+Wi-Fi hybrid positioning ensures that the module can track position even in weak or no signal areas; and Wi-Fi positioning is used to ensure position tracking indoors.
The compact form factor, great positioning performance, low power consumption and dual (U)SIM interfaces make MC90 a best choice for a wide range of M2M applications, such as bicycle-sharing system, student ID card, vehicle tracker, wearable device (smartwatch), pet tracker, asset tracker, driving recorder, etc.
Key Benefits: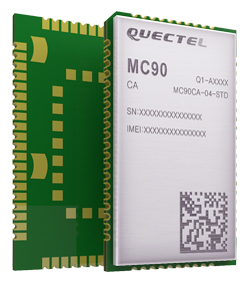 ● Support 2.4G Wi-Fi (IEEE 802.11b/g/n) (scan only)
● Low power consumption: 1.2mA @DRX=5
● Support voice, data, SMS, OpenCPU and QuecFOTA functions
● Embedded abundant Internet service protocols
● Built-in LNA for higher sensitivity: -149dBm @Acquisition
-167dBm @Tracking
● Multi-GNSS system: GPS, GLONASS, Galileo and QZSS
● Support hybrid positioning (GNSS, Cell ID and Wi-Fi aided positioning)
● Support advanced technologies: EASYTM/LOCUSTM/AlwaysLocateTM/GLP/SDK/AIC/EPOTM/QuecFastFix Online
● Great anti-jamming performance due to multi-tone active interface canceller
● Support 1PPS function