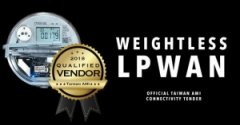 Comet Electronics presents Weightless - a new LPWAN standard for radio communication
24.07.2018
The rapid development of wireless communications and the widespread deployment of IoT have prompted the emergence of different standards for this type of communication. After analyzing the advantages and disadvantages, Comet Electronics offers Weightless standard as extremely promising and interesting for use in the IoT field.
Here are the key features:
100% bidirectional, fully acknowledged communication for reliability.
Optimized for a large number of low-complexity end devices with asynchronous uplink-dominated communication with short payload sizes (typically < 48 bytes).
Optimized for ultra-low-power consumption (at the expense of latency and throughput compared to cellular technologies).
Standard data rates from 0.625kbps to 100kbps.
Typical End Device transmit power of 14dBm
Typical Base Station transmit power of 27dBm
Supports several variants for the bandwidth - 12.5kHz, 50kHz and 100kHz
Full compatibility with provisions for the use of unlicensed bands
The weightless standard uses a "star" network topology, similar to the popular LoraWAN, but overcomes several major flaws:
All terminals operate synchronously using TDMA and FDMA access techniques to the air to eliminate interference between them. LoraWAN uses access method based on ALOHA, which reduce five times the network throughput. Weightless ensures that at any moment 2 or more end devices will be never transmitted simultaneously, meaning that the network has the capability to support thousands of end devices without degrading the throughput due to internal interference in the network.
Guaranteed delivery of information. The Weightless standard provides fully acknowledged communication that is not possible on LoraWAN. Thus, each end device receives confirmation that the transmitted data has been received.
The weightless standard is being developed by the Taiwanese company Ubiik.
For more information please write to support@comet.bg